The draft is in two days, and for the first time in years, I've done some homework on these prospects. I'm going to provide a little commentary on each guy. Full disclosure: my board looks very different from lots of experts, and that probably means that I'm wrong. But I'm out of the business now, so I'm going to take some swings and hope this is like 2013, when the best two prospects in the draft went 15th and 27th, respectively.
Lamelo Ball, Guard
Look, I don't know if he's going to be a superstar. But I see a lot of 6'7 Trae Young in him. He's got a super smooth handle, great touch, and will enter the NBA as a top 10 passer from day one. His dad is a headache, and Lamelo might let the fame get to his head, but I'm betting on the talent.
2. Tyrese Maxey, Guard
Most boards have Maxey from 10 to the mid-teens, but I really think he's got a chance to be special. He's incredibly smooth off the dribble, explosively quick, and actually hustles on the defensive end.
There's a lot of talk about how Kentucky guards usually pop off in the NBA, and rightfully so. Calipari has coached a lot of great guards. But it's also true that for every Jamal Murray and Tyler Herro, there's been a Malik Monk or Andrew Harrison who's disappointed.
I'm not betting on Maxey solely because of his Kentucky training, I'm betting on him because he has real NBA range, makes shots at a high clip off the dribble, and generally has a stroke that looks good (in spite of 29% on threes) to combine with his explosiveness and creativity finishing around the rim and from midrange.
3. Devin Vassell, Wing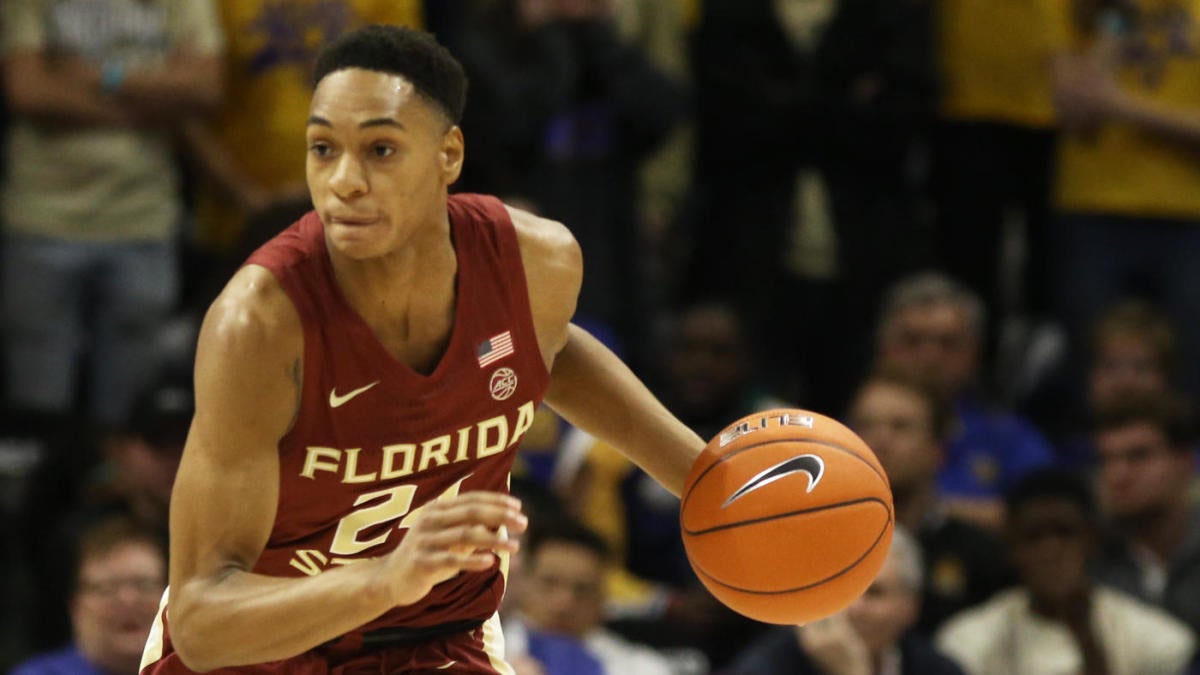 I had Mikal Bridges high on my board a few years ago, and feel vindicated now that he's established himself as an elite defender and competent shooter. Vassell is the same type of player. He's great on defense and shoots reliably well from the perimeter. In a draft like this one, I'd be happy leaving with a surefire starter.
4. Aaron Nesmith, Wing
If Maxey at 2 didn't turn you away, hopefully Nesmith at 4 won't either. I just think this guy is either going to be Khris Middleton or Buddy Hield. And I'd be happy with either of those guys in this draft. Nesmith is a very very very good shooter, and has legitimate size and strength to avoid being targeted on the defensive end. My concern is whether he'll be able to play almost exclusively off-ball going forward, after a reasonably high usage rate last season.
5. Tyrese Halliburton, Wing
Some people consider Haliburton to be a guard, but I think he'll translate as more of a wing. His usage was too low to expect him to play on-ball at the next level. I think of him as Shaun Livingston with a funky long-range shot that goes in regularly. That's a really good player to have on your team!
6. Desmond Bane, Wing
Bane is another guy I'm particularly high on, compared to where other boards have him. He's a lights out shooter (44% from deep) who passes really well for an off-guard and defends reasonably well, too. People worry about his 6'4 wingspan but I think those concerns are exaggerated. Is he going to be elite on defense? No. But I anticipate his linebacker build and physicality will make him a plus on that end. There are some 6'4 PJ Tucker vibes with him.
7. Anthony Edwards, Wing
This guy is extremely hard for me to put this low. I watched him play Michigan State and thought he was going to be the surefire top pick in this draft. Effortless scoring, occasional eye-popping passes. But the whispers about his background do pop up. People compare him to Wiggins. I think he's more like another Kansas product, Ben McLeMore. I think if he was looked at as an undersized four, his long term career outlook would be a lot more interesting (hey, he's 225 already. If he bulked up to 235, he could easily be a wing with his 7-foot wingspan). I just don't trust that he'll be trained along that path, and see him as a good stats, bad team guy.
8. Onyeka Okongwu, Big
Didn't really get a great feel for him. He's good on defense. And has a big body too? Not sure what else there is to love. Honestly, I'm not sold, but I still think mobile defensive bigs who have some touch on offense possess a lot of value. Wouldn't be surprised if he was just Wendell Carter, though. He's this high cause a lot of people I really trust love him.
9. James Wiseman, Big
Hassan Whiteside 2.0? I'm sure he'll be good. I just would rather have Aaron Baynes or Tristan Thompson at the MLE and use the pick on one of the guys I have ahead of him.
10. Obi Toppin, Wing
He's not really a guy I'd want on my team despite the inevitable monster stats he'll put up. It's empty calories. I anticipate he'll be Rookie of the Year if he's drafted into a decent situation. I also expect him to be a turnstile defensively, and he plays a position where you can't afford to be a turnstile defensively.
11. Patrick Williams, Wing
Yeah, I'm going to regret having Williams be this low. He's the youngest player in the draft, has the size and strength to fill the most important defensive role in the NBA, and has a developing shot. I just get some Al Thornton / Chris Singleton FSU flashbacks when I think of him.
12. Kira Lewis, Guard
On highlights alone, Kira Lewis seems like he's going to be a stud. But at the end of the day I think he's probably going to end up being closer to TJ Ford than Ja Morant. He's a very quick guard with a decent perimeter stroke and solid defensive instincts. I'm a fan, but he's not super explosive, so I worry about his finishing at the next level. He was bad on floaters last year, which he'll need to improve on cause he's not dunking on people like Ja can.
13. Killian Hayes, Guard
I'm lower on Hayes than a lot of my friends and colleagues who watch more ball than me and have watched Hayes more than I have. All I know is European guards who aren't super athletic (excluding Luka) have generally struggled to transition over in the NBA. Ulm really built their team around Hayes and his growing pains, and I don't think he's getting that luxury in the NBA. Even a guy like Garland who went 4th last year might not have that long a leash going forward. Lots of people see Hayes and say D'Angelo Russell with defense. I say he's Beno Udrih with better PR.
14. Tyrel Terry, Guard
Happy to squeeze Terry into the lottery, cause he's the type of player I think could actually soar up this board if it all works out. Naturally people want to compare him to Trae Young cause he's got great range and great passing. Apparently ranks off the charts with interviews as well. I see him as more of a Landry Shamet type player, but he could also well be a more deadly DJ Augustine type. Probably too small to ever be a starter on a great team though.
15. Isaac Okoro, Wing
I'm prepared to get burned by this guy if he turns out to be Westbrook (he could!) He just doesn't do the things on offense that I like to see from players if I'm drafting in the lottery. He's a good passer and is probably the best athlete / perimeter defender in this entire draft. But he can't shoot and I get worried he's just Stanley Johnson.
16. Nate Hinton, Wing
I'm much higher on Hinton than others. I see a little Marcus Smart to his game. He dives on the floor regularly, is physically tough, and rebounds extremely well for a wing. He's also a better passer than he's given credit for and looks like he might have a jump shot that translates to the pros on spot-ups.
17. Josh Green, Wing
Honestly, reminds me of Josh Hart. Might be a lazy comp considering their names.
18. Tyler Bey, Wing
Andre Roberson with a shot if it all works out. That'd be really good for the 18th slot on the board!
19. Deni Avdija, Wing
He could go as high as four, but I don't see it. He's not a great shooter. Long, but suspect on defense. He's a creative finisher and has some interesting ball handling skills for his size, but i think he's closer to Kurucs than Kukoc.
20. Sadiq Bey, Wing
A bit rigid and upright for a 3-and-D guy, but strong and good at shooting. He'll be in the NBA for a while. A little like DeAndre Hunter.
21. Cassius Winston, Guard
I see a Mario Chalmers-esque career for Winston. He's a very good shooter, passer, and leader. He's just small and will struggle to defend big guards.
22. Xavier Tillman, Big
Getting my Spartans out of the way in succession. Tillman can be very good. Is he Draymond? No. But I think he'll battle defensively with legit NBA stars, and can pass and shoot enough on the offensive end to potentially become a poor man's Bam. Boston and Golden State should target him.
23. Paul Reed, Big
I watch Paul Reed's highlights and I feel like he's Ivan Johnson meets LeBron James. He's athletic, bounces out of the gym, and has more ball handling and playmaking than you'd expect from a guy with his frame. I also get the sense that he's a loud presence in the locker room, and might never be a competent shooter, so could be a risky pick.
24. Sam Merrill, Guard
This guy can shoot the lights out and is a true 6'5 point guard, which you don't see every day. As tempted as I am to write him off as Nate Wolters 2.0, I actually think there's something about Merrill that could translate into a starter in the NBA. Wouldn't be surprised if the Sixers grab him as a needed floor spacer and expand his role from there.
25. Mason Jones, Wing
He could be Allonzo Trier, or he could be Jimmy Butler. The guy gets fouled A TON (most FTA in college last year, and he hits em at 90%+). He's also relatively old at 22, but apparently only started playing basketball late in high school, so he's a young 22. I would take the chance in the mid 20s.
26. Ty-Shon Alexander, Wing
Good shooter. Good defender. Bad ball-handler for a guard. The first two things hopefully outweigh the third.
27. Jay Scrubb, Wing
JuCo guy. Lefty. He has nice dunks and generally looks like he could be a real player. Long for a wing, but not a twig. Maybe there's some upside worth exploring? Might go undrafted.
28. Cole Anthony, Guard
Maybe he's a better decision maker than what I saw, and he's potentially a better defender than I'm giving him credit for. I just don't love his resume, and think nepotism fed his hype when he was in high school. Still, I could see him becoming Jerryd Bayless, at which point 28 would be too low for him. I just really don't want the Knicks to draft him at 8.
29. Malachi Flynn, Guard
He's 6'1 and not an elite shooter, so he's got a hill to climb. But he's an incredible decision maker / passer, and won his conference's DPOY award, so you know he'll be able to defend point guards at the next level. I just get Aaron Craft vibes where he's too short for his skills to overcome. If he was four inches taller, he could be Alex Caruso.
30. Aleksander Pokusevski, Wing
Just don't want to be the guy that misses out on him if he's Giannis 2.0. He won't be, but gotta hedge the bet and acknowledge he was considered in my first round.
Just missed the cut:
31. RJ Hampton, Guard
Don't see the hype, but acknowledge he's athletic. Romeo Langford to me.
32. Payton Pritchard, Guard
I'll be honest when I watched him play in the tournament two years ago, I told myself he's TJ McConnell but bigger. So I'm sticking true here.
33. Immanuel Quickley, Guard
Good shooter for Kentucky and could easily stick around somewhere. Just a bit undersized and doesn't offer much beyond shooting (but, hey, shooting's good!)
34. Robert Woodard, Big
Lance Thomas / Donte Cunnhingham esque 4 for the NBA. Could see him develop a shot and carve out a role as a tweener.
35. Jaden McDaniels, Wing
Watch a couple YouTube videos and you can definitely talk yourself into him. But he's got a loose handle (no-no for a guy his size) and doesn't shoot well. Longer Tony Snell / perimeter oriented Thon Maker vibes.
36. Isaiah Joe, Guard
The boy can shoot, and likes to shoot. Reminds me of Hofstra great Charles Jenkins.
37. Daniel Oteru, Big
Realistically, he should be higher. He's good at a lot of things for a big. I just don't really like the strategy of drafting bigs, considering how many good ones are available for minimum contracts.
38. Markus Howard, Guard
If he wasn't 5'10, he'd probably be a top 15 pick. Great shooter (Nesmith / Merrill level) and passer. Just too small to defend at the NBA level.
39. Grant Riller, Guard
Great ball handler, good passer, and crafty finisher. Also, can't defend anyone at the NBA level.
40. Trent Forrest, Wing
Florida State lockdown defender with some shooting potential.